René Heyvaert (1929–1984) was briefly active as an architect before deciding to become an artist. He saw art as an essential part of his life, a way of dealing with the world. Heyvaert's oeuvre is highly varied, but he is best known for his work with found objects, which he reinterpreted through minimal interventions. 
This book is published on the occasion of his monographic exhibition at M – Museum Leuven, which explores both aspects of his oeuvre. Essays and photographs shed new light together on Heyvaert's practice as both architect and artist.
Contributions by Eva Wittocx, Sam Steverlynck, Peter Swinnen, Filip Dujardin, Koenraad Dedobbeleer, Kasper König, Patrick Van Caeckenbergh, Roland Jooris, Galerie Drieghe, Bart De Baere, Paul Robbrecht, Anne Heyvaert, Patrick Robyn, Galerie Richard Foncke, Wim Goosens & Arnaud Hendrickx, Joëlle Tuerlinckx.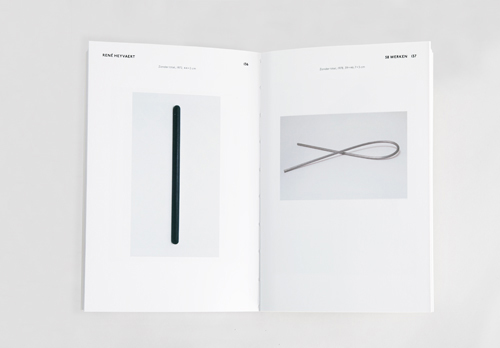 Editor: Peter Swinnen & Eva Wittockx
Date: 2019
Contributors: Eva Wittocx, Sam Steverlynck, Peter Swinnen, Filip Dujardin, Koenraad Dedobbeleer, Kasper König, Patrick Van Caeckenbergh, Roland Jooris, Galerie Drieghe, Bart De Baere, Paul Robbrecht, Anne Heyvaert, Patrick Robyn, Galerie Richard Foncke, Wim Goosens & Arnaud Hendrickx, Joëlle Tuerlinckx
Design: Kim Beirnaert
Publisher: MER, Borgerhoff & Lamberigts
ISBN:  978 90 8931 960 9
Edition: 1 000 copies (sold out)